BH03: SS Super Master Deluxe 3-N-1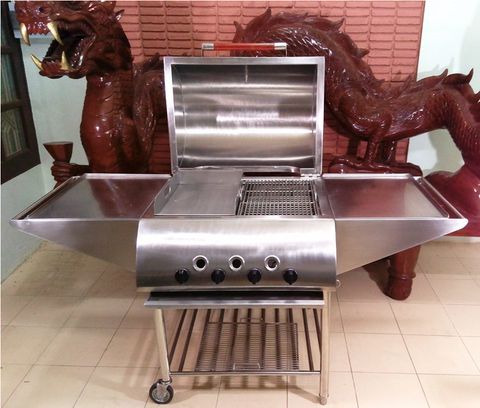 BH03: SS Super Master Deluxe 3-N-1
Description:
Quik-Fire 'SS Super Master Deluxe 3n1' bbq grill is the latest 4 burner design in our long line of quality hand crafted bbq grills using our same original 3 burner SS Deluxe 4n1 model's thick insulated top which offers you an, 'Oven', right along with your barbecue. Great for home or restaurant use…
This bbq grill includes; insulated Oven top w/quality stainless housed Thermometer, interchangeable 50/50 hotplate with double bbq grills, lower storage rack, front mounted burners, high heat performance, and two large side tables. If desired accessories may include; custom crafted stainless beer cup chicken roasting holders, sausage/rib rack holders, stainless pizza baking sheet, and hand crafted removable Rotisserie.
BBQ: All your favorites with this high performance, 'Oven', top bbq.
Bake: Pizza, Bread, Sausage Rolls, Lasagna, even Brownies.
Pan Roast your favorite meats and ribs until the meat nearly falls of the bone. Then place your ribs on the grill with a little sauce for that great bbq flavor.
Quality, Performance, Versatility coming to you in a welded not bolted ready to use bbq.
Further questions or comments and private base price conversation along with possible accessories for this fantastic SS Super Master Deluxe 3n1 bbq please go to our Contact Page. We will respond promptly 7 days a week.
Quik-Fire; don't hesitate, if you require the best purchase the best..
Contact Us:
We can be reached by email at quikfirebbq@gmail.com or call 087-863-8651 for English, or 087-862-1911 for Thai.
You can also click on the "Contact Us" buttons located at the right side middle and lower right bottom of every page.
Equipment Types
We proudly recomend JD Beverage Drinking Water