Testimonials
Here's some of our customer feedback.
Hi Doc,
On behalf of our company we would like thank you for your professional support for the custom design BBQ's we ordered on behalf of our clients here in Koh Samui.
As we specialize in High end Villa construction it was wonderful to deal with your team in producing the quality equipment our Clients expect and not to mention delivered on Time!
Thanks again.  We look forward to doing business with you again.
Kind Regards,
Russell Whitehead
General Manger Projects Division
Samui Villas and Homes Co., Ltd.
Hi Doc,
RE: SS Master Deluxe 4n1 + Oven Top, Rotis, Chicken roaster, Rib/sausage holder.
All good, mate, postee just told Ning we have a LARGE delivery waiting. 
Should have seen the Mrs eyes light up when I told her we can cook suckling pigs on this bad boy.
I fired 'er up and cooked beer in the bum chicken with baked veggies and steamed veggies in the wok.
I had my girls straining at the bit to get to the chicken.
We had the full option baked dinner with baked veggies, steamed veggies and gravy cooked with the juices, best bloody chicken we have ever had and I must say the best baked dinner I have ever cooked, and I've cooked a few.
Now trying the sausage grilled with some Issan snags.
Cheers,
Pete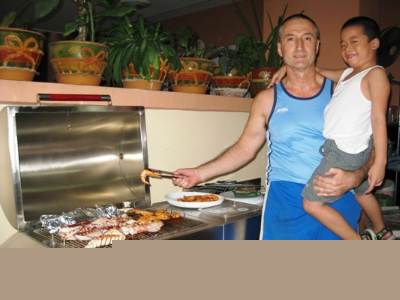 Bob Klasnic enjoying the new BBQ grill.
Hi Doc,
The SS Master Deluxe Barbecue and the Heavy Stainless Plate Half Griddle that i brought from you is superb. The barbecue is built like a tank, it is constructed of top quality stainless steel and the way it is engineered and its looks are outstanding.
The barbecues performance is first class too. The three powerful burners are easy to control from low heat settings to high.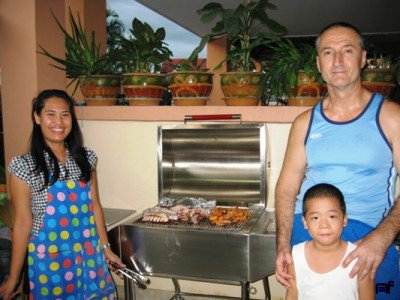 The heavy insulated hood is superb which enabled us to use the barbecue as an oven and we enjoyed doing some baking. The griddle plate is very heavy and will obviously be brilliant for cooking; once the plate is hot it will retain the heat for a long time thus allowing easily controlled cooking temperatures.
So far we have had the barbecue for three days, yesterday was my son's birthday and we had many friends come around and we enjoyed cooking for them on your superb barbecue, Doc.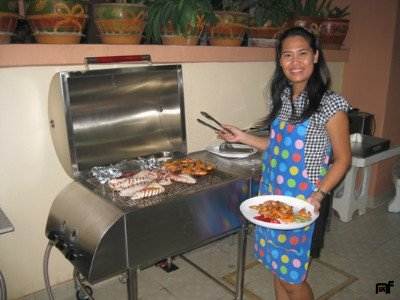 I would like to thank you Doc for all the help you have given me, things such as a copy of the shipping document and postal tracking number, pictures of the barbecue wrapped up and securely strapped to a pallet for shipping, and for the phone call from you today asking if everything is okay with the barbecue and if i am happy with it.
Best wishes, Bob Klasnic
I've just had the most rewarding experience since moving to my new home we call Udon Thani I need to thank the friend that introduced me to the "Master of Creation" we know as the Doc, I have no doubt that anyone who has had this pleasure and had the Doc create their BBQ knows what I'm talking about.
Now us Aussies have a pride in our BBQ's that is second to none and sitting down to describe everything you would like your "Barbie" to do, how she should look and how she should function was not a problem for the Doc in the custom design work Living in Udon was probably an advantage for me as the Doc invited me the workshop at a step in the development which just left me wishing she was finished so I could fire her up.
Having the Doc agree to create your "Barbie" is like the experience of having a commissioned work of art done. But now she is finished and all polished and dressed up, I'm not sure whether to fire her up and burn her in or just leave her as a center piece of Art created by the Master.
I thank you Doc for the privilege of the journey so simply "Thanx Mate" To anyone who is considering a purchase take the step and talk to the Doc you won't be sorry, the quality and workmanship is not something you will find anywhere else in the world in a BBQ, but then you also have the advantage of meeting a real Artist in Design and a Great Man.
Now for the skeptics you can feast your eyes on my, 'Signature TT Max front mount sparkers', "Barbie" on the Quik-Fire website.
Russell – Superintendent LAO Mine
Hi Doc,
Received my SS Deluxe 4n1 a few days after moving to my new home, first indication of the quality was the weight, heavy! After careful unpacking, I stood back to admire the beauty and quality of this product. First class workmanship, no sharp corners, obviously a lot of care and attention to detail has gone into the manufacture.
My first ever attempt at roasting a whole chicken on the Rotisserie was a resounding success. Nothing dripped onto the grill whilst on the Rotis, but the juices were all contained in the chicken. The most juicy and tender breast pieces I've ever had. Next was spareribs wrapped in tinfoil.
I preheated the grill to about 250 and in 20 or so minutes was tucking into beautifully baked spareribs. We did not have a stove yet in the new house so the side burner came into play immediately. Bacon and eggs, omelet Thai style, squid with basil and onion - all done to perfection, thanks to the heat the burner was capable of generating (like in Chinese kitchens).
I have a friend who swears by Weber grills but I have no doubt that my Deluxe 4n1 is on par if not better in quality (price wise, there is just no comparison). Thanks a lot Doc. I'm looking forward to many many fun hours with many new recipes.
Mr. Chow - Bangkok
Hi Doc,
I have had my LAD BBQ for a little over 2 weeks and each time I look at it sitting on my deck I have to smile. It is a thing of beauty and it performs better than it looks.
I have BBQ'd at both very high and very low temps with great results. Each day when I go to "Rimping Market" I always walk by the BBQ corner and smile knowing that I have the LAD at home. When I purchase things I always consider "Value" at least equal to overall cost.
I feel that my LAD gets extremely high marks when I consider "Value". I have really appreciated your after sale follow up. It is clear that you are both confident, and proud of your product.
Thanks again and I will be sending customers your way if I hear of others who want a High Value BBQ at a moderate price. Best regards, Jack L - Chiang Mai (Reg. real name changed to Initials by Quik-Fire)
BBQ's of legend!
I finally got around to getting one of Doc's legendary barbecues, and believe me, its all it's said to be, and more. This thing is a work of art, a fine piece of equipment. I have missed barbecuing since coming to Thailand, as I used to do practically all my cooking in the states on the BBQ.
I was an equipment design engineer for part of my previous life so I know how to recognize well designed and well built equipment. Doc showed me around his shop and I could see that he is using top of the line materials, 304 Stainless on practically everything; all welded construction, not bolted together, and the weld finishing is first rate.
I ended up with the deluxe model with insulated cover, as I was interested in using it as an oven. I used mine in the States as an oven but the cover wasn't insulated and I could just feel the BTUs going out into the air.
I started out doing the standard grilled chicken, ribs and burgers and they came out just fine. But I was most interested in how it would perform as an oven. I baked some lasagna, a broccoli casserole in Bechamel sauce, and roasted a chicken.
They came out perfect. The heat control is a little touchy, but once you get to the right temperature, it stays there and the heat is even throughout the entire grill, no hot or cold spots that I could tell.
The real test of any oven is how it does baking bread. So I whipped up a yeast bread batter (after a couple of failed attempts to capture some Thai wild yeast for sourdough) and once again, the bread came out perfect.
Many bread recipes say to turn the bread during baking because most ovens have uneven temperature distribution. I didn't bother turning mine and placed two loaves in different parts of the oven.
They both came out evenly baked. So I am a happy camper on this one. I would highly recommend Doc's Quik-Fire, especially if you want to upgrade your Thai kitchen to do some baking. You will have a superior oven and also a first class barbecue grill.
by jimboLV
Hello Doc,
On Sunday our gas BBQ arrived at the local Post office. My maid and a nephew loaded the wonderful device onto a "village bus" that had just dropped off school children in our small town. 15 baht later it arrived at our rental home.
Today it took 6 minutes to cut the bubble pack and another 6 minutes to follow the GREAT well written instructions. Full assembly and hot stones in about 12 minutes from first unpacking!!! I seem to recall about 45 minutes to one hour for a BBQ from Home Depot in America.
The design and fabrication look great and my pork steak today was cooked perfect. I was so tired of viewing my wife or our maid bend over a charcoal bucket breather dangerous fumes. They both are very impressed with the ease of cooking on this device.
When we move to our new home it will have a place near our pool for BBQ's for many years. Great work. The scanning of the postal receipt could be a bit clearer in pdf form, but your pre sale and post sale service is great. I have placed a motor bike chain and Multilock pad lock on this barbecue to prevent it from rolling away to the rear of a nearby Karaoke Bar.
The photos on the web site do not do justice to how well made the device is. Perhaps you will soon receive some orders from Buriram Province of my buddies who have already viewed the wonderful BBQ. Do not hesitate to use me as a reference. BM (Reg. real name changed to Initials by Quik-Fire)
Another Happy man leaving Doc & Sawitta's home Ready to Barbecue. I had been looking for a gas bbq for a while, and finally bought the Quik-fire 2 burner stainless model. They have been mentioned in the forums recently, locally made in Udon.
They are truly a work of art. Sturdy enough to dance on, and hot as hellfire if you turn them up. The heat is easily regulated, and the cook area perfectly fits two of those 1/2 sized stainless inserts you see on buffet tables, I'm sure a full-sized one will use the same space.
With the double walled top closed, this makes for a nice oven. I could go on and on, but suffice it to say, I'm impressed, truly I drove to Udon, it just fit in the trunk of my '93 accord. Had to tie down the lid. I'm sure you'd need a pickup to move the 3 burner models.
These babies are welded solid, they don't break down, unscrew, go in a box etc. These things not only work well, they deserve an industrial design award.
TG (Reg. real name changed to Initials by Quik-Fire)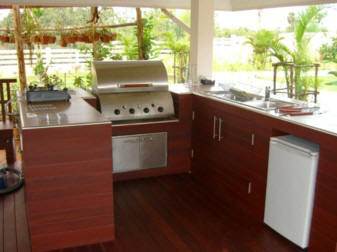 Counter top looking good!
Hello Doc.
How are you? Finally finished the house and put the bbq in place.
I thought that you may like to see its pride of place. 
Tomorrow I have 9 family arriving from England for 2-3 weeks to see the new house so expect to give the new BBQ a "real thrashing".......steaks, shrimp, chicken, veggies......the works.
J. P. - Hua Hin
Hello Doc,
This is a note to say thank you so much for the fantastic SS Master Deluxe barbecue, with custom high pressure wok burner. I have attached some photos. One is of my daughter "presenting" the BBQ as it arrived, still in the excellent packaging.
I had not realized that the three burners are arranged length wise along the BBQ, which is an excellent layout that I am sure helps to give nice, even cooking. On the first evening, everyone watched as I barbecued a chicken (photo attached).
I left it on the BBQ a bit too long as my wife insisted that it was not cooked yet. Oh well, it was my first attempt and it still tasted good. On the second evening, I could not get a look in on the BBQ as my wife and her Aunt took over and did the cooking.
They made some excellent shish kababs and barbecued fish. Everyone was really impressed by this machine and I know that it will get a lot of use, actually, probably daily use. The double insulated hood is very solid and heavy and the outside surface stays relatively cool as the heat is trapped inside. I must say that the workmanship is excellent.
All of the welds are very neatly done and of course there are no nuts and bolts to be seen. This is one very solid BBQ and I expect that it will last us many, many years. Having the thermometer fitted to the hood was an excellent suggestion of yours too as it gives a bit more control over how things are cooked.
To clean the BBQ, I just turned it up to 350 degrees for a few minutes before turning the BBQ off and then when it had cooled down I used a wire brush to remove the black remnants. I will be recommending Quik-Fire gas BBQs to anyone who will listen.
Thanks again and Best Regards
Greg - Prachinburi
Hi Doc,
Very nice tool and it takes only a few minutes to heat it up.
The SS-Deluxe works perfectly fine, it\'s very easy to adjust the 2 separate burners and the result is just fantastic.
I'm having a lot of fun with this piece, it's really quality work and worth every bath I paid for.
I really recommend this gas-bbq to everyone who is seeking for the perfect bbq solution - you get good quality for your money.
Urs United Nations Lao
I didn't believe, but now I am convinced, Quik-Fire BBQs are really Top-of-the-Line I took delivery of a SS Master DeLuxe, I originally thought a little expensive, but now realizing you get what you pay for.
What workmanship, Quik-Fire say everything is hand-made, it's a fact I can verify. Needless to say it is being well used, the latest being the production of Sausage Rolls. I feel sure that this hasn't been attempted yet by other proud owners.
I feel my horizons are now wide open for more adventurous cooking in my SS Master DeLuxe. Incidentally, for once, my wife is gob smacked, with the results, a rare occurrence for a Thai.
Our Thai BBQs have been relegated to the farm, I better be careful, maybe I shall have to get her a SS Gas BBQ for there.
Doc, you convinced me. Regards lumpuk
Doc,
I am happy to inform you that I now have the coolest barbecue in the Mooban. After some back and forth with the post office regarding whether or not I needed to be there for it, my maid managed to get them to release the barbecue to her last week.
After wrangling a pickup truck owner from the local market to deliver it, it sat in my carport for a few days, tempting me, until I had a chance to unwrap it and do the "break in" myself. Both my wife and my maid thought it was too beautiful to use.
But I finally got a chance to try in at supper last night, and what a beauty! I love the strategically-placed "peepholes" on the sides that allow a look at the flame tubes -- simple and effective. I used it for a couple of small steaks last night, and I learned pretty quickly -- it gets hot in a hurry, so I need to monitor closely. I think I'll try some sausages tonight.
As for the quality of construction, I have to tell you that I'm really impressed. Let me share a little story. Yesterday afternoon, I was at a fancy supermarket in Chiang Mai that had several gas barbecues for sale. They were the same, flimsy-looking ones that I had seen on other websites catering to 'farangs' (no names, but you know the sites I mean).
When I had the chance to lay hands on them and give them a good shake, they shuddered and twisted like an outhouse in a tornado. For one, the asking price was B30,000! I was reminded of the cheap, made-in-China ones I saw at Home Depot in the U.S. In February (retailing for about $200). I turned my nose up at those, and, when I saw the same kind in Chiang Mai yesterday, I could only chuckle, knowing what I had at home.
Correct me if I'm wrong about this, but there are a couple of features of the grill that don't get mentioned on the website and should be.
1. The wood handle for the hood that rotates in its mount. The wood stays cool, and, because it rotates, it's easier to open the hood. That's a quality touch, and the combination of the wood handle and stainless steel construction is kind of nautical-seeming, like it should be aboard ship.
2. The push handle that juts out slightly from the shelf side of the barbecue and the high-quality casters are very nice. I've had several barbecues with wheels, but none of them were very easy to move. In those cases, there were no good handles to use and the shelves were usually very flexible plastic; also, the plastic casters were terrible on outdoor surfaces and easily broke.
Your machine, however, I can (and do) wheel quite easily from the covered carport to the open patio. It reminds me a bit of those medical-equipment carts you see in doctor's offices.
3. I would add one very pleasant surprise about it. It's not as big as I expected it to be. I don't mean the cooking surface (which is more than adequate for my purposes), but the overall dimensions.
Though I'm using mine outside in a fairly open space, I could see how it would fit in a confined patio or courtyard, or even on an open balcony.
Hope that you're having a good weekend there in Isaan. Mine here is a lot better now that I've got a good barbecue to use.
Best, Andrew - American Embassy
The SS Deluxe BBQ we got from Doc was put to the test and performed like a champ.
We used it at the Loy Krathong festival last night. It cooked for over 6 hours straight on full blast without blinking.
We sold almost 8,000 Baht of sausage and bbq sticks, thanks
Doc. Now if only you could make it self cleaning..
This Thavisa post by, Gippy: 2009-11-03 15:19:33
Hi Doc,
Just a quick line to thank you and all of your staff for their service, the BBQ is absolutely the best. We tried it out last week for an all day family BBQ and it was just great.
I decided to do a deep fried Catfish dish using the side burner...that thing is like a jet engine! brilliant for deep frying or Thai wok dishes. The girls decided to use the square half griddle to do some Japanese veggies and teriyaki chicken which were excellent.
We all had a great day and in true tradition of BBQing...drank loads of beer!!
What can I say Doc, the stainless steel workmanship is perfect, it will last forever.
All the best JH - Chon Buri (Reg. real name changed to Initials by Quik-Fire)
Equipment Types
We proudly recomend JD Beverage Drinking Water